TwentyOne Angullia Park owner in talks with bidders
.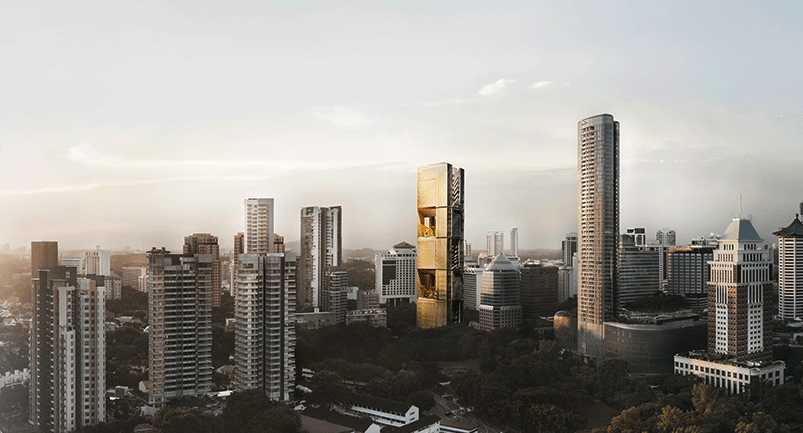 CS Land, formerly known as China Sonangol, is in talks with several parties for the sale of 38 unsold units in its flagship project TwentyOne Angullia Park along Orchard Road.
One of these parties is understood to be a consortium led by Ben Yeo, former managing director of engineering and property group Guthrie GTS, although a family member declined to "respond to market rumours" when BT tried to contact Mr Yeo.
The Business Times understands that the negotiations are at an advanced stage but nothing has been finalised. The tender process was informal; there were no tender documents and the developer had approached potential buyers, although others who caught wind of it also participated with bids.
When contacted, a spokesman from Chartered Straits Capital (CSC), a company incorporated in Singapore just three months ago, confirmed that it "has been engaging the market very selectively".
CSC acquired China Sonangol Land and the properties it owns earlier this year and renamed it CS Land to disassociate it from negative press that the parent group, China Sonangol International, has been getting in the global press over murky resource deals in Africa.
CS Land is now headed by chief executive S C Chan, who was previously regional managing director of container transportation company OOCL Singapore.
In a statement, Mr Chan said: "We are pleased that this prime asset received several high-quality offers. This is an opportunity to enhance value for our shareholders, and puts us in a good position for future growth in Asia."
BT understands that CS Land has rejected several offers, including from private-equity firm ZACD Group, property developer Evia Real Estate, as well as a vehicle linked to United Overseas Bank chairman emeritus Wee Cho Yaw.
CSC declined comment on the tender participants, saying it does not want to jeopardise the deal while negotiations are ongoing.
CS Land is another victim of the government's Qualifying Certificate (QC) rules, which were enacted to prevent hoarding and speculation of private land by foreign developers.
It follows in the footsteps of several developers who have offloaded their units in bulk - either directly or through more creative means - to avoid paying hefty extension charges.
Developers with any kind of foreign ownership, substantial or not, have to meet a two-year deadline to sell all their units once their projects are completed.
Even the most confident of developers who believe that prices can find back lost ground given more time have caved under the time pressure of this rule and sought to offload their units as quickly as they can.
According to calculations, CS Land should have incurred about S$15.8 million in extension charges on TwentyOne Angullia Park in the second quarter of 2016.
The 54-unit project received its Temporary Occupation Permit (TOP) in Q2 2014. If the number of unsold units remains in Q2 2017, the developer would have to pay double that amount, or S$31.6 million.
Some in the market say the 38 units could be worth about S$260 million to S$270 million in total, translating to about S$2,700 per square foot (psf) over a saleable floor area of 95,700 square feet. For comparison, recent transactions at the condominium have averaged about S$3,200 psf.
A market watcher said that it would be challenging to pin down a range for the bids as the various bidders could have proposed different models - with some looking at purchasing company shares in the holding company, and others considering a direct purchase into the physical property. There are also different terms and conditions of sale.
Asked to compare the two purchase methods, Jennifer Chia, head of corporate real estate at TSMP Law Corporation, said stamp duties and time taken to complete the acquisition are the two main factors buyers consider when deciding between purchasing a property directly and buying shares in a holding company.
"A company purchasing a property directly would incur buyer's stamp duty of 3 per cent plus 15 per cent additional buyer's stamp duty if it is a residential property, as compared to stamp duty on the shares of a holding company at 0.2 per cent," she said. "However, the due diligence would be easier for buying a property than for buying a holding company, as the latter would come with liabilities and sometimes more complex financial structuring."
The CSC spokesman confirmed that the holding company of TwentyOne Angullia Park has no encumbrances.
CS Land has another development in Singapore, Amber Skye in East Coast, which will be completed in the the first quarter of 2017. This will not be incurring any QC charges anytime soon.
Besides property development in Singapore and Indonesia, the pre-acquisition China Sonangol has also invested in Suntec City Office Tower One in Singapore and Lippo Centre in Hong Kong. In August and September this year, it was reported that CS Land sold 23 Wall Street, the former J.P. Morgan & Co building in Manhattan, to developer Jack Terzi of JTRE Holdings.
In Singapore, property developers have been making headlines for their bulk sales of unsold units to escape extension charges.
Last month, Heeton Holdings announced the sale of its entire interest in the completed iLiv@Grange. This was done through a company share sale to a group of Singaporean private investors, and valued the project at S$95 million. Heeton said this will result in a loss for its third-quarter performance.
In another more complex deal, City Developments (CDL) last month also offloaded its completed Nouvel 18 condominium to a group of high net worth Singaporean investors via a S$977.6 million profit participation securities platform. Analysts estimate that CDL would book a net profit of around S$27 million.
But CS Land's bulk-sale attempt is made more intriguing by the fact that the pre-acquisition China Sonangol Land was wholly owned by China Sonangol International, which has links with the Queensway Group, believed to be headed by Sam Pa, a shadowy Chinese billionaire who goes by as many as seven different aliases.
China Sonangol International is not merely a property player, but also in the business of commodities and infrastructure construction. It is partly owned by Angola's state oil producer Sonangol E.P. The Financial Times reported that Mr Pa and the Queensway Group have headed a series of high-profile multibillion-dollar deals between China and Africa.
Last year, Mr Pa was arrested, reportedly in relation to a corruption investigation into Su Shulin, the governor of Fujian province and former boss of China's state-owned oil giant Sinopec. This came a year after Mr Pa was named on a sanctions list by the US government for allegedly facilitating graft in Zimbabwe.
This year, FT also reported that HSBC has frozen more than US$87 million in accounts linked to Mr Pa while it investigates allegations of serious financial crimes.
Adapted from: The Business Times, 3 November 2016